亚裔餐饮业专场招聘会 3/28/2022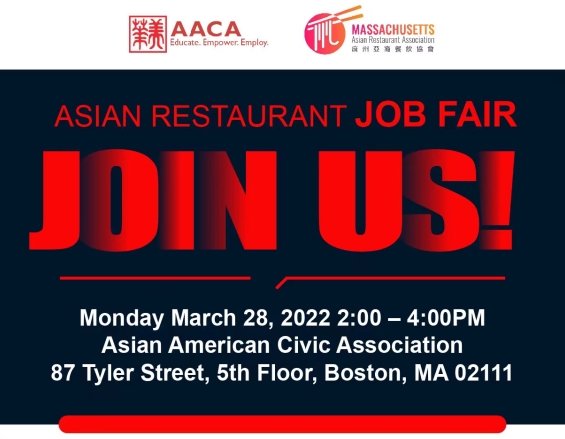 麻州亚裔餐饮协会 (MARA) 与华美福利会 (AACA) 将联合举办亚裔餐饮业专场招聘会,帮助新移民和其他经济弱势群体找到工作,同时帮助亚裔餐馆解决劳动力短缺问题。
时间: 2022年3月28日 下午 2-4时
地点: 华美福利会(AACA), 87 Tyler Street, 5th Floor, Boston, MA 02111
十几家波士顿本地餐厅出席并提供全职与兼职岗位。
本次招聘会期间,求职者将有机会与餐厅业主或管理者面对面交流,了解有关职位空缺,工作环境,薪资范围与福利待遇等信息。
现场提供免费零食小吃和软饮料。
注册:
求职者免费注册! 带上朋友,寻求属于你的机会!
MARA会员餐厅免费,非会员餐厅 $50美元,活动现场支付。
联系人: 617-331-3012 (Andy)
主办: 华美福利会(AACA) 和麻州亚裔餐饮协会(MARA); 协办: 波士顿华埠商会(CBA) 和公盟教育(CEA)
Massachusetts Asian Restaurant Association (MARA) is working with Asian American Civic Association (AACA) to host an job fair to help new immigrants and other economically disadvantaged people to find their jobs and help Asian restaurants to resolve their labor shortage issues.
Date and Time: March 28, 2022, 2:00 to 4:00 PM
Location: AACA, 87 Tyler Street, 5th Floor, Boston, MA 02111
A dozen local restaurants will be attending and both Full-Time and Part-Time positions available.
During this job fair, interested restaurants will be able to share information on open positions as well as the benefits available to the employees upon hiring.
Free snacks and soft drinks are provided.
This event is hosted by Asian American Civic Association and Massachusetts Asian Restaurant Association, and assisted by Chinatown Business Association in Boston and Civic Education Alliance in Quincy