MARA-ACE Regional Leadership Round Table
Growing Your Business in Today's Challenging Environment
2023 Regional Leadership Round Table
Co-hosted by: Massachusetts Asian Restaurant Association (MARA) and Asian/Pacific Islander American Chamber of Commerce and Entrepreneurship (ACE)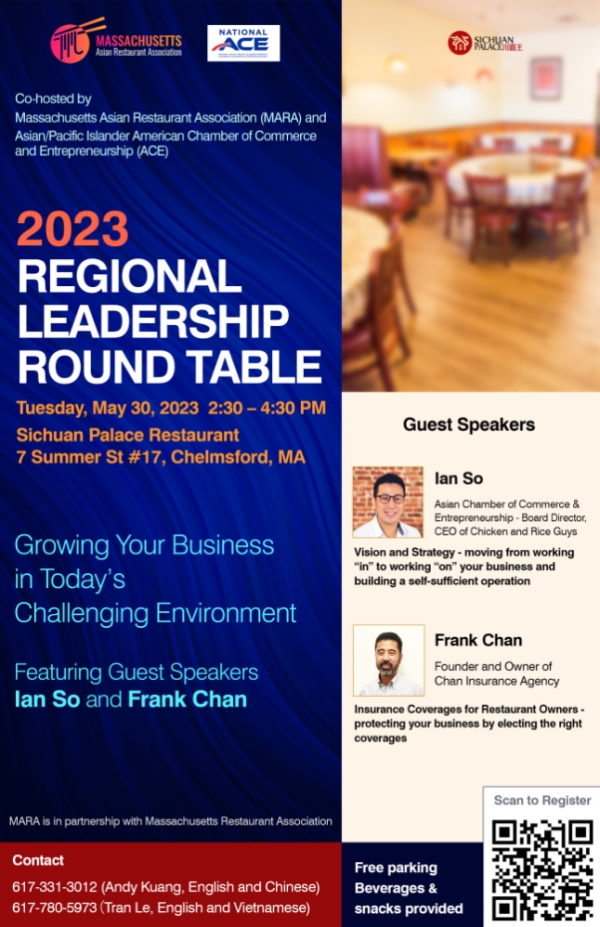 Do you feel challenged in growing your business after three years of pandemic followed by inflation? Have you ever wondered how you can protect your business in today's uncertain economy?
Come and join us for the 2023 Leadership Round Table! We are very excited that two successful entrepreneurs who are passionate about serving our community will join us to share their success stories and valuable insights. They will answer the questions you might have and explore business opportunities with you together.
Agenda
Keynote presentations


Ian So
Vision and Strategy - moving from working "in" to working "on" your business and building a self-sufficient operation

Frank Chan
Insurance Coverages for Restaurant Owners - protecting your business by electing the right coverages

Round-table discussion - bringing your questions, sharing your ideas, exploring opportunities together
Guest Speakers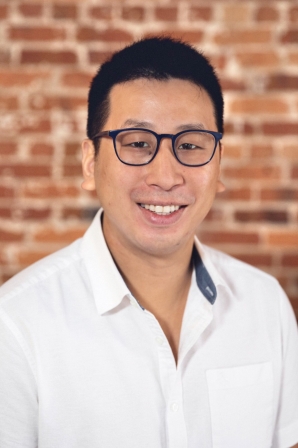 Ian So, Asian Chamber of Commerce & Entrepreneurship Board Director, CEO, co-founder and co-owner of Chicken and Rice Guys
Launched in 2012, Chicken and Rice Guys has seen continuous growth year over year since then. It was once named 9th and 206th fastest growing private company and now operates in multiple states. Chicken & Rice Guys rise to fame includes numerous awards and publications in the media.
Ian is personally recognized as a Boston business leader by winning numerous awards including Boston Business Journal's 40 Under 40, Mayor Walsh's Spark Impact Awards, Smart CEO's Future 50 award, and GetKonnected 25 Most Influential Millennials of Greater Boston. Ian is a frequently featured speaker in the media for his entrepreneurship.
"I have learned from amazing mentors, reading, and tons of trial and error on the best ways to run an organization with amazing culture and teams. With the changes in economy, cultural changes of Gen Z and millennials, social media, and AI, the lessons I have learned and applied in the last 10 years will only become more relevant. I hope they are helpful to everyone." - Ian So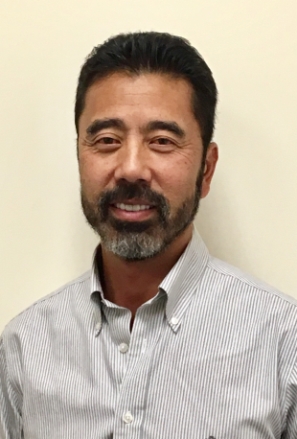 Frank Chan, Founder and Owner of Chan Insurance Agency
Frank was a recipient of the 2019 Barry M. Portnoy Immigrant Entrepreneur Awards Benefit.
Chan Insurance has supported the economic and social health of the community by sponsoring local nonprofits including BCNC. In addition, Chan Insurance Agency has provided jobs for English Language Learner immigrants, including BCNC Adult Education students. In 2019 Frank was nominated by BCNC as an excellent immigrant entrepreneur in the category of neighborhood business.
"My goal of the agency is to offer the best insurance products and the best services for members of the Asian Community. Besides English, most of my staff can speak Cantonese, Cantonese and Toisanese. My goal is to continue to grow my business by serving more clients." - Frank Chan
Date & Time: Tuesday May 30, 2023, 2:30 – 4:30 PM
Location: Sichuan Palace Restaurant, 7 Summer St #17, Chelmsford, MA 01824
Registration: Free Admission. Scan the QR code to register: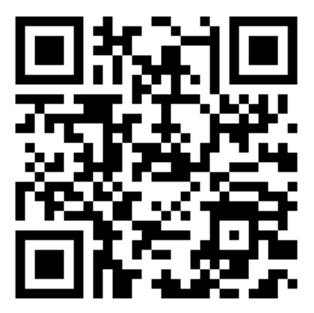 Contact:

617-331-3012 (Andy, English and Chinese)
617-780-5973 (Tran Le, English and Vietnamese)
Free parking. Beverages and snacks are provided!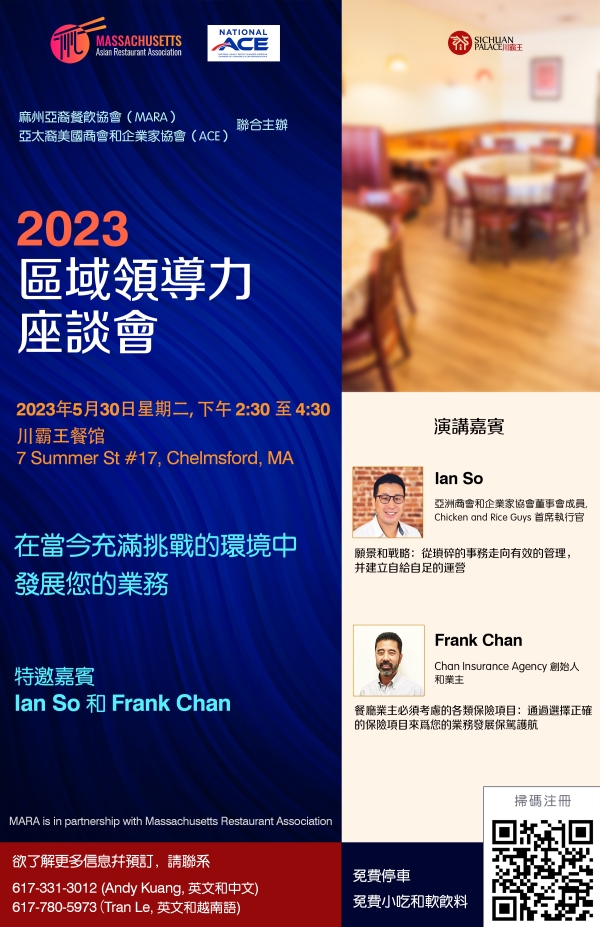 ---- MARA is in partnership with Massachusetts Restaurant Association.----